About us
Are you searching for Burgers Cuisine? Harding's Burger Joint has the perfect range of Burgers specialties that you will surely enjoy with your friends and family. We are located at 7 Harding St. Coburg VIC. We are open and available for both pickup and delivery services on all days of the week. Our Burgers and Café specialties include Beef Burger, Linguine Marinara, Crispy Chicken, Crumbed Calamari, Chicken Parma, Seasoned Wedges and more. We also serve Apple Danish, Spanish Churros, Steakhouse Chips and Soft Drinks. Our complete menu can be viewed by clicking the Order Online button now. We will deliver our delicious feast straight to your place.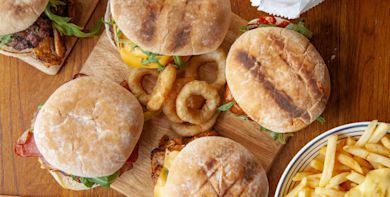 Reviews
Michael
"Brilliant as always"
17/01/2020
AJ
"Love that I can pay cash for this and it's always earlier than expected after a hard day at work ❤️??"
21/12/2019